On Wednesday, August 10th of last year, I was fortunate enough
to be present when a gorgeous double rainbow arched across the sky where I live.


Double rainbows are thought to be full of transformative energy, excellent Karma and many blessings.

While enjoying this marvel of nature, in all its ethereal and celestial beauty, I made my four wishes and OMG, here is my story of what transpired a few weeks later in British Columbia.

xoxoxoxoxoxo

Watching Supernatural episode 7.05, Shut Up, Dr. Phil, being filmed over the course of two weeks on various days was absolute bliss. Finding live filming is like finding the Holy Grail and thanks to L.'s (Seesmooshrun) lucky find, we spent many happy days indulging.

I landed in Vancouver on Tuesday, August 23rd, dropped my things off at the hotel and ran out to meet L. and give her a hug and then we were off – down the street, through the maze of towering buildings, over the flag covered bridge and into the land of gorgeous and huge cedar trees (some moveable and some not *grins*).

There were a few fans at the location already and over the course of the afternoon and evening, it grew a little bit, but stayed basically small.

Piles of neatly wrapped wires and cords were resting on the ground close to us, ready to spring into action as needed and Craft Services to feed everyone was located across the street from us. It's a popular place and turned out to be even more so, when fresh made pizzas were cooking much later in the night.

The main Circus was located away from the residential area, down in a parking lot, near MacDonald's.

There were the necessary trucks on location though, along with the regular traveller trucks, taking cast and crew back and forth to the Circus.

Jared, Jensen, two of the Impalas, Charisma Carpenter, James Marsters, crew members and two very cool high end Porsches (I believe) were also in attendance.

It was so exciting to be there and here them yelling "Quiet, Rolling and Cut". And every now and again, you'd hear Jared's laughter carry across the breeze.


Things and people were being switched out as the scenes were being filmed and one of the Impalas had left, only to return later that night, as I was standing up, stretching. Talk about an automatic response, I clicked a picture as a car drove by, looked down at L. and said "OMG, the Impala just drove by."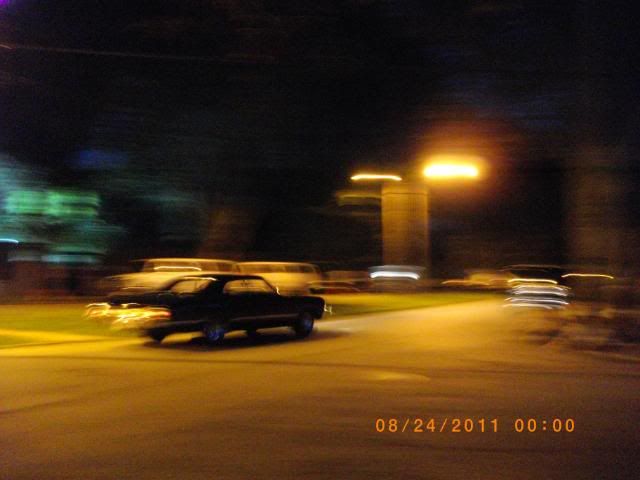 xoxoxoxoxoxo

Wednesday was an absolute ball.


We headed back up to watch more filming and Laura (Morgan's Lady) joined us.

It was so very much fun to be there and watch everything going on, under a beautiful and clear sun filled day.

A little boy and his brothers and sisters set up a lemonade stand and they were serving iced Blackberry Lemonade for 25 cents. They were so cute and the cold lemonade was very welcomed. They did quite well too in the financial department, with everyone buying from them.

When the lunch break came, the Impala was sitting there. Those of us who were left had a unique opportunity to get some really awesome photos of Dean's baby up close and personal and to really check out the third cast member.

What an amazing vehicle.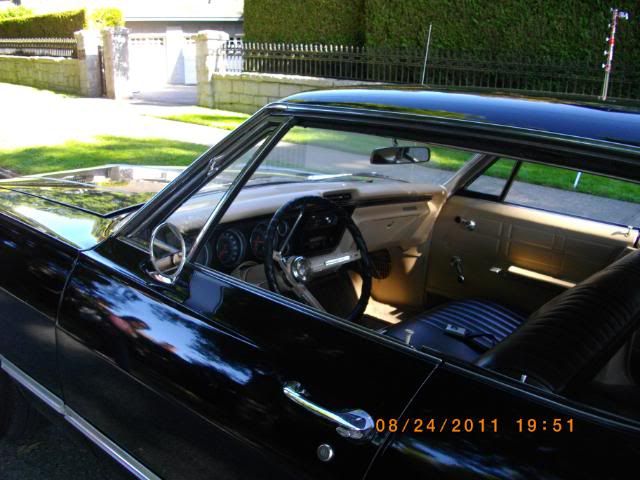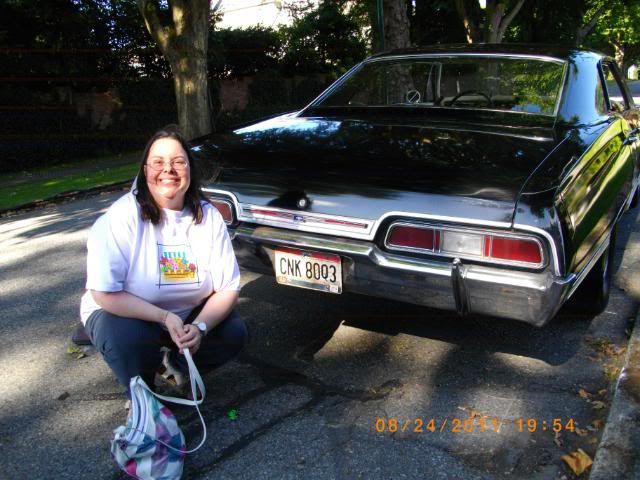 L., Laura and I headed over to Granville Island for lunch at Bridge's Restaurant.

We sat out on the deck under the yellow umbrellas, surrounded by the water, boats, a wedding going on and perhaps Billy Joel. It sure looked like him and people passing by were doing double takes.

I had the boccioni and basil pizza and a glass of white wine. Were they ever good.

After, we walked through the Granville Market. What a vast array of items, from homemade teas and coffees to heart shaped chocolates and colourful flowers and thanks to Laura spotting The Salt Spring Island Coffee sign outside of the Market in another building, I was able to purchase some of the lovely coffee, along with some fantastic citrus pecans.

Laura and L. had gone ahead to the car to save time, and when I came out, I got completely twisted around and basically lost (and I don't think it was from the wine *grins*).

Thank goodness for friends coming to save me. *smiles*

We were a bit later getting back and the group had grown, but not overly so.

We got parked and set-up and awww, it was great seeing and catching up with a dear SN staff member that I hadn't seen for awhile. What a wonderful person. *hugs*


On the adorable front, at one point, when the darlings returned to the set, one of the crew members said over the radio "our heroes have arrived."
I thought that was so cute.

Somewhat later, for the fans that were still there, we were asked to gather together off to the side and a bit back from where the second Impala was.

Jared and Jensen were filming inside of it.

The water pumper was driving up and down wetting the side street and things were in motion for Charisma to drive her car up the street and into the driveway.

It was so, so cute, because just before things really got going, we'd hear Jared's voice over the walkie-talkies saying "Charisma, Charisma, Charisma."

After one of the shots, Phil Sgriccia yelled cut and then asked everyone to gather together and so all the cast and crew gathered and they all turned to us.

Oh Wow! What a moment!


The most lovely and heart warming speech was given.

We were thanked for our loyalty and support of Supernatural and they wanted us to know how much we're appreciated.

The thankful was apparently filmed by the team and the word is that it may appear on the Season Seven DVD set.

The double rainbows was sure working its magic. What a truly special and heart filled time, certainly one I'll always treasure deeply.


After everything was done for the evening, we headed over to New Westminster and took in a few of the episode filming locations, including the famous parkade one from Nightshifter and we had the place all to ourselves, so we could indulge fully in running up and down the stairs where Sam and Dean made their exit. *glee*

xoxoxoxoxoxo

Thursday was an awesome day and night and also brought the realization that I had developed a new addiction.

7-Up Slurpees and I have become best friends.

It started innocently enough. There's a 7-11 across the street from the Sheraton Wall Centre. It's very clean and well maintained and their prices are pretty reasonable.

I'm in one morning picking up a cheese and jalapeno roll for breakfast when I spotted the vast array of Slurpees and these really fun multi-coloured straws/spoons.

Well, next thing you know, I find myself zipping over there for one – a small at 59 cents, more times than I could count. And, they are open 24-7, so over the course of time, I made many trips. *grins*

Started off with a massage at the Vida Spa that is attached to the hotel. It was great. It's in a wonderful and soothing setting and the masseur was really good. It sure felt like I was floating when I left there.

I met up with L. and met Carolyn and Rollanda and we were off on a very fun day.

We did an epic amount of episode location viewing and had a blast.

George's Taverna right across the street from Jessica's street corner was great and the food is really good there.

The main street is truly charming and how perfect, that there was a Splash Shop there, where we were able to purchase rubber ducks (I bought a cute little pink octopus – to be friends with the ducks).




Walking the docks was very enjoyable with the fishing boats and outdoor cafes and the beautiful sunshine rippling off the water.

Many scenes from Mystery Spot were filmed in Steveston – it's a lovely place.

Later on, we headed up to Fort Langley, an all time favourite of mine.

From the first moment I saw it, years ago, it's never lost its charm.

After we got parked, we headed off towards the water, stopping along the way to admire some beautiful Aboriginal/First Nations art work, which is truly outstanding, the Clinic they used in Croatoan and then down to the water and the pile-ons used in the iconic scene from Croatoan where Sam and Dean had the big discussion.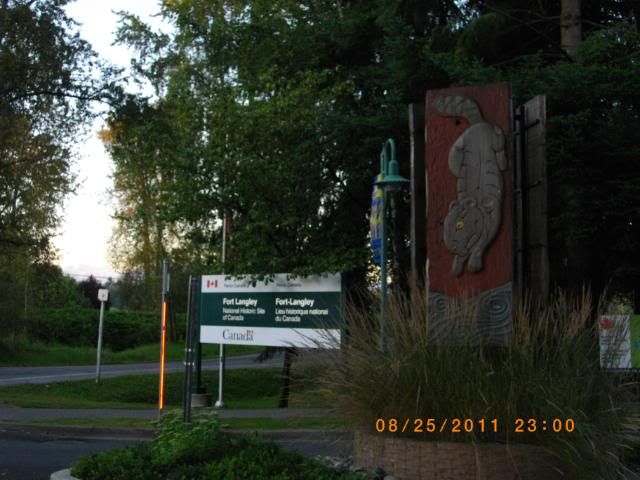 We walked the streets and checked out other filming locations and had a grand time doing so.

On the way out of town, we stopped at the Hazelnut Grove where Scarecrow was done. It was just getting to be that time of evening, when the gloaming starts settling in and it gave a creepy feel to the long rows and trees you couldn't see behind.

The traffic was incredible, I mean like whoa heading back in.

We hit the North Shore really late and hats off to L. for her excellent driving through massive construction and loads of traffic.

BC is booming that's for sure.

Based on some very random and vague clues given to Laura yesterday and my mind filtering through all the locations I'd been to over the years, my little voice had started really screaming to me – North Shore…North Shore, so I put it out to the ladies and we decided to go for it and like wow – always listen to your little voice, because as we pulled into Denny's (aka Bigarson's), it was clear that filming was going on and L. ran to check, came running back, opened my door and said "There is filming AND it's Supernatural!" OMG!!!

We were able to get the very tail end of filming at the Travelodge Motel and it was fantastic.

And hey, what do you know, some of the travelling cedar trees were there.

We drove back via my favourite bridge, The Lion's Gate and the lights at Whistler were on – so lovely.

xoxoxoxoxoxo

Friday was the official start of the Convention and it was delightful to see so many friends and to be able to catch-up. *Waves to everyone*.

Purple wrist bands and pink tickets, my favourite colours, were part of the wonderful Con experience.

The Convention line-up was fun.

Alona Tal and Chad Lindberg were the first on stage and appeared together. They had a fun panel, with lots of joking around and set an enjoyable aura for the Con.

Next up was Colin Lawrence who was really good and he was followed by Richard Speight, Jr. who is without a doubt, a real fan favourite. He's a great guy with a keen sense of humour who always keeps the crowds entertained.

The day moved into evening and after the autographs, L., Carolyn and I headed out for dinner and we ended up at the 131 Water Kitchen and Bar. It's a great restaurant. It's located in Gastown and we were fortunate enough to get a table on the patio.

They served cucumber water and was it ever good. And, they also serve one of the best Champagne cocktails
I've ever had. What a delicious treat.

The food was great and so was the company.

It was late enough, that all the twinkle lights were coming on, which really added to the ambience of the iron fencing and cobblestones.

After, we headed up the street and this lovely old building was illuminated in changing colours of purple and fuchsia and green and we stood off to the side to admire it and we were lucky enough to be standing right by the Gas Clock when the steamer went off and that was really cool.

Later that evening, Brian Buckley performed. He sang some really nice songs and sure puts his heart into his music.

The Karaoke show was the best one I've ever been too. There was so much merriment to be had.

Richard and Matt were fabulous hosts. Their 60's-70's attire set such a groovy tone to the night's festivities.

Alona, Colin, Chad and later on Sebastian were so much fun.


Intermingling with the crowd including body surfing ensured everyone present stayed to the very end.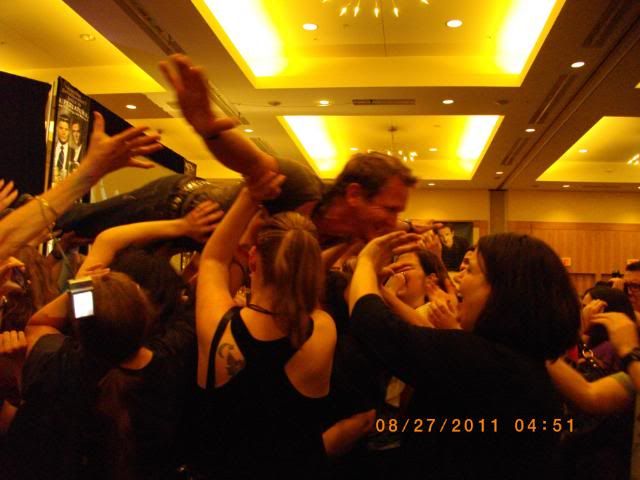 The participants were great and the music rocked.

Such a fun event! :)

xoxoxoxoxoxo

Saturday! OMG!!! Saturday!


A dream, ten years in the making, happened in the most magical of ways today.

First though, about the first part of the Convention happenings.

The day started off beautifully, full of sunshine and happiness.

Russ Hamilton (Movie God), Location Manager for Supernatural was on first.

He is so much fun to listen too. He has a vast wealth of knowledge about his chosen profession and probably one of the coolest jobs going.

Steven Williams was next and he's a marvellous storyteller.

I sure hope we get to see Rufus coming back.

Corin Nemec was excellent and has a really beautiful smile.

He told a really nice story about his time filming Tucker: A Man and His Dream, starring Jeff Bridges.

Jeff had come in to see him and Corin had not hung up his clothes and Jeff provided some sage advice about one's actions and the impact on others, basically by Corin not hanging up his own clothes, meant that someone else would have to do it for him. It stuck with Corin, in a good way.

Richard Speight, Jr. and Matt Cohen were up next and what a ball they are together.

There was lots of talk about how much fun the Karaoke had been the night before (and it so was) and then Richard explained how they went shopping together for their duds and Matt then picked up the story about this woman that came over to him later and told him how gorgeous he was.

He thanked her and then the woman showed Matt a picture of herself on her cell phone – a naked part of herself.

Both Matt's and Richard's faces while telling this were priceless.

Following their presentation there was a break (if you weren't doing some of the other things like photo-ops) from 1:35 pm until 3:20 pm when Sebastian Roche was scheduled to appear.

I felt this was going to be my only opportunity to get back down to Gastown and to Roger's Chocolate Shop.

I grabbed a taxi and headed down.

I had my heart set on purchasing some of the lemongrass curry truffles I had bought last year.

Once I entered the shop, I looked around once and then again and I'm not seeing the truffles.

I asked one of the lovely salespeople and was advised that they didn't have any. *Blink* *Blink* Really?

However, all was not lost, as they had a stunning selection of fusion chocolates and it was fun deciding on which chocolates would make up the gifts I was buying.

Once I was finished, I decided to walk up to Robson because I wanted to go to Kiehel's to see if they had any of the samples, similar to what I got last year.

It was hotter than the hinges of hell. Holy mackerel and I had completely misjudged how far it was from where I was.

My Doctor's words: "Remember to pace yourself, Sandra" were running through my mind, as I was slowly turning into a sweat ball.

At last, Robson Street came into view.

And, timing is everything.

Kiehel's had moved a few doors down since I'd last been there and on this fine Saturday, they were also having their anniversary sale.

The place was jammed, with line-ups snaking throughout the store.

I joined the line and this really nice guy was going up and down the line asking what people were needing.

I asked regarding the samples and he was great and as he was getting my samples, he received a telephone call, and came over to me when he was done.

It's so funny how serendipity stepped in to make what happens next a dream come true.

He explained the samples to me and I thanked him and exited the store and felt like I'd been hit by a thunderbolt.


I was pretty much cemented to the sidewalk, because OMG!!! OMG!!! OMG!!! standing on the street, right in front of me was GALE HAROLD (Brian Kinney of the American version of Queer as Folk fame).


This had been ten years in the making for me. I hadn't made it to Toronto when they were filming QAF, but everyone who knows me, knew I was hoping for Vancouver, since he started filming The Secret Circle there.

So, on a sun filled Saturday afternoon in Vancouver, my wish came true.

My hair was plastered to my head, I was sweating and my cheeks were flushed red and here I was meeting Gale.

He was awesome. I waved to him (he's like only three feet from me, but I was so excited) and said "Hi Gale" and smiled. Gale smiled and waved back *adorable* and said hi.


He is just as cool in real life as I thought he might be.

An incredible few moments in time that I'll always treasure in my heart.

I called my sister and left a message about what happened and the message was saved so I could hear it and when I listened to it later it was: xoudkxokedldl-OMG-GALE HAROLD-xogkgouelek-I JUST MET GALE HAROLD!xoileieleke…

I flew up to the IGA Marketplace to pick up a salad and a white peony tea before heading back to the hotel.

The guy behind the counter was great. He got me my salad and then my tea and then handed me a glass of water. He said he couldn't recall ever seeing anyone's cheeks so red and flushed *smiles*.

When I walked in to the hotel it was so great because L. and Rollanda were in the lobby to share my squee about Gale.

After, I headed up to the room and Laura was there and asked me what was new.

Well, I had so much to share. Laura didn't know Gale either, but shared in the enjoyment.

It's so wonderful to have such good friends.

I made it just in time for Sebastian's Q and A and what a treat.

Sebastian is lots of fun and has tons of appeal.


His stories and mannerisms were touched with flirtatious teasing. He would be a delight to work with for sure.

Misha was up next and as always, he's spot on. He was nervous that Sebastian was plotting something against him on stage and kept looking around – it was too cute.

The inflated duck, had been ridden by Sebastian earlier and then Misha was eyeing it and once he heard about Sebastian's exploits, it was hysterical.

Eventually, Misha got a hold of the duck and wrote a note to Clif on it.

The autographs were loads of fun and filled with happy exchanges.

After, L., Carolyn, Rollanda and I headed down to Robson and had supper at a nice crepe diner. The brie crepe was wonderful.

Then, into LUSH, one of my very favourite stores. It was fun initiating the gals into the joy that is LUSH.


The Dessert Party later in the evening was enjoyable. Rollanda and Carolyn were great company and the make your own ice cream treats were delicious.

I stayed for awhile and saw Misha, Matt, Steven and Corin, before I left.

I love the Sheraton Wall Centre and in the evening, they have on their twinkle lights and there was a warm breeze and the hum of Saturday night traffic. It was a beautiful evening and a good opportunity for some quiet prayers of thanks time.

xoxoxoxoxoxo

Sunday was the big day and the excitement started really early and it's always so great.

The breakfast was continental style and you could really feel the excitement mounting as the time got closer for Jared and Jensen to appear. And then, they did and the place went wild.

They work really well together, with the back and forth bantering and storytelling. What great guys!


And, when Jensen pulled out his switchblade – well, a super cool guy got even cooler.

The photo-op sessions went: Jensen, then Jensen and Jared and then Jared. You have to go the auditorium and wait for your row to be taken up to the photo-op room and the air was giddy and fun-filled for sure.

Chris is such a great person as well as an A+ photographer. Creation is very fortunate to have him. He sets an easy and comfortable tone.

The ops were fantastic. Both Jared and Jensen were great, as always. :) :) :)




The panel with Jared and Jensen was wonderful.

From Jared knocking over his chair to Jensen "taking care of the duck" with his switchblade, the almost hour was filled with adorable antics.

The autographs with the guys went so very well. Jared asked me about the photo I had chosen to have signed. I explained it was one of my own, taken in the park in New Westminster and brought a feeling of peace and serenity for me. He smiled and said "We all need places like that to go too." What a sweetheart.
Christopher Heyerdahl
was beyond marvellous. What a truly lovely gentleman.

It was a true pleasure meeting him and having the opportunity to thank him for all his wonderful work.

Guy Norman Bee is extremely nice and was more than willing to help surprise a friend (Bardicvoice) who unfortunately couldn't make it to the Convention, by talking to Mary on the phone.

Divine: The Series

Ivan Hayden, Kirk Jacques, Jason Fischer and Misha were all involved in the making of Divine: The Series. They gave the audience a really good presentation of it and then the first webinar episode was aired. It was really good.

At one part, I really jumped and I felt this hand pat me on the shoulder and turned around. It was Misha. What a sweetheart.


The autographs with Christopher and Richard were after the presentation and were great.

Divine: The Party

I was worried I wasn't going to make it in time. I was late, but I got there and it was really nice. I even got to walk the red carpet to get in. :)

I hooked up with Laura and her friends and we got to watch the gag reel from the filming, which was hysterical.

Then, Mohave, the gorgeous hawk from the series, was there with its handler, and you could get your photo taken with him (her?).

The first photo snapped had us all laughing, as Mohave came really close to my face. The second one turned out really good.

There was an extremely good turnout and the room was warm.

I headed over to the bar and got a glass of lemon water and then stood off to the side and was watching everyone and just thinking how very happy I was to be there.

From about halfway across the room, Jared smiled at me and waved. What a wonderful person – so sweet.


xoxoxoxoxoxo

The Location Tour on Monday was loads of fun. Russ was great and Carolyn and I had such a good time.

There was so much to see.

We were taken to the skateboard park where the teaser for Jensen's episode was filmed. There was some really fascinating artwork on the walls.




One of the coolest things we got to take in, was a Technical Survey being done by senior staff of Supernatural for the episode Slash Fiction.

It was extremely interesting to see them do their thing and discuss the planning of some of the shots and the logistics of getting things done. A highlight for sure.

Being inside Bobby's salvage yard was great as well as seeing Crowley's mansion.

Having an outside lunch at Crowley's was good fun.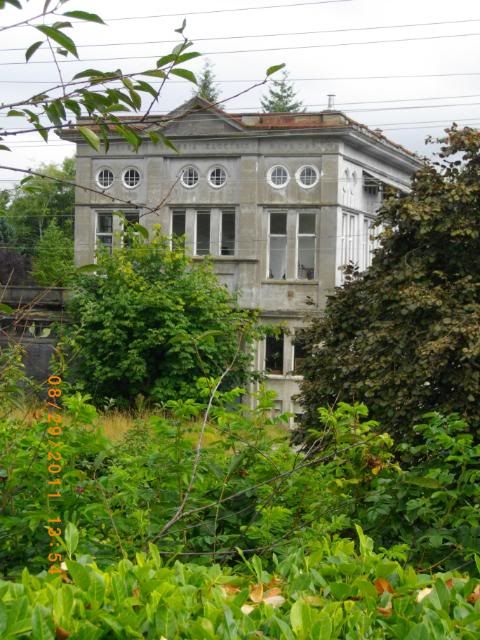 It was really sad to see the Backlot burning. You could see it coming in for miles. What a shame.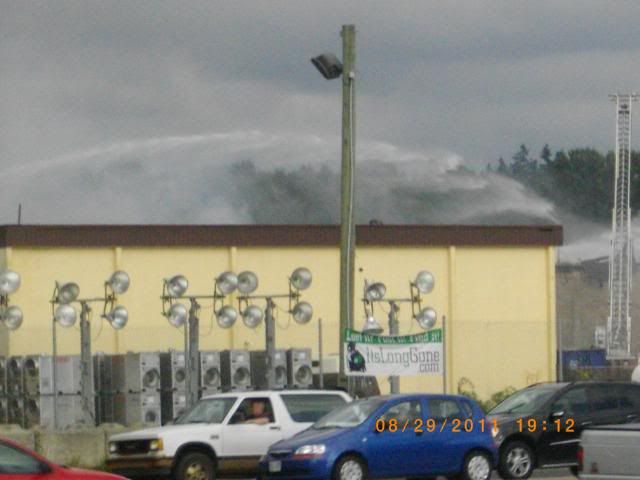 Once we got back to the hotel, there were more goodbyes to be said. Yesterday was hard for that and today was no better. Cons are the best for seeing friends and hanging out, but saying goodbye until next time is hard.

L. and I headed down to Coal Harbour and it is so breathtaking there, with the seaplanes coming in and the cruise ships and the yachts and the mountain ranges just on the other side and the water. It's a really nice place.

We had supper at White Spot close to there and got a window seat and had a really great evening.




Sue (Candygramme) was very kind to let me stay at her place after the Con for which I'm very thankful. It was fun to spend time together. Thank you again, Sue. *hugs*

xoxoxoxoxoxo

Fort Langley is such a charming place. It's a beautiful place in British Columbia, filled with enchanting scenery by the water and adorable shops throughout and around the main street and I was fortunate enough to make it up there twice during this trip.

Tuesday was a day filled with pure magic, starting off with Starbucks and a White Chocolate Mocha latte…yum!!!

It was such a beautiful day. When we got into town, we drove around a bit just to get our bearings and in the process had a fun encounter with a lovely person, which made the day get even better. Thank you! *hugs*

We got a great parking space and an even better place to watch all the fun filming going to happen and just very happy to be there.

And I got to spend some time with Val (Raloria) which was great.

It was fun to see how the cedar trees appeared again and the new signage that went up on some of the surrounding buildings which circle the Fort Langley Community Hall.

During a long break, I was meandering through town, taking everything in and made my way down to the water, right by the pile-ons used in Croatoan and sat on one of the benches.

There wasn't a soul around and it was a good place and time to thank the good Lord for all the blessings of this trip and the marvellous opportunities and gifts bestowed.

It was so peaceful and there was a light wind blowing and I was looking across the water when it dawned on me that I was looking at the Circus for Supernatural. *glee*

After sitting awhile longer, I made my way up Glover and did some shopping in the adorable little shops, including Cranberries Naturally, Tap, The Old Candle Factory and The Tea Infusion Bouteaque.

I purchased gifts for family and friends and myself from all of these stores, among others. If you're ever up that way, they are sure worth stopping in for.

In Tap (True Aromatherapy Products And Spa), the greeter served me hot blackberry tea in a purple and green china cup and saucer, which I really loved. (Blackberry was certainly the theme with drinks over the course of filming). And I was able to get a lemongrass candle, hand designed with imbedded flowers.

The lovely proprietor of Cranberries Naturally, remembered me from last year and we had fun catching up. She said to me "Your show is filming here." I was shocked that she remembered our conversation from last year. She explained that it was something she would never forget and then presented me with a paper all the local shops had received from Russ Hamilton of Supernatural regarding the next few days' shoots.

I was so excited and over the moon and I gave this lovely lady a big hug and thanked her so much. It's a lovely souvenir from a great shop during a fantastic trip. I would highly recommend the cranberry and mango tea. Once you're done with it for steeping your tea, you can mix it into your cereal – it's very versatile that way.

I zipped back to the water and got a few shots of the Supernatural letter in front with the Circus in the back.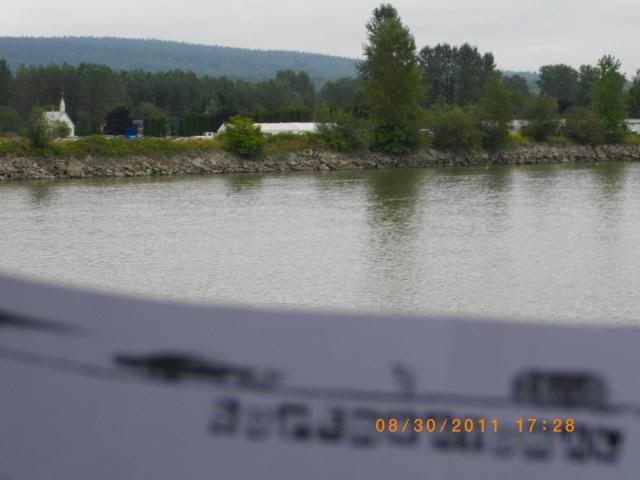 The Old Candle Factory has a fantastic assortment of every type of candle you can imagine. Their historical Fort Langley ones are the ones I went for and every time I walk by my dining room table, I smile.

I was walking up to show L. everything I had gotten, when I had a lovely encounter with D. on the main street corner. *big hugs x one million*

The owners of The Tea Infusion Bouteaque are also big fans of the show, particularly the wife. It's a really nifty tea shop that sells both traditional style teas as well as infused ones. I purchased a White Tea Orange Parfait and it's been a hit at my book club meetings.

It was a grand day all around, lived abundantly in the moment, with contentment filling the air.

The owners of The Fort Fish and Chips restaurant where we were seated on their patio were lovely and their hand-cut french fries and ice cold drinks were much appreciated over the course of time we were there.

Just as night was falling and the lamplights were coming on, the staff brought Charisma over to our side of the street and I walked up to meet her. Thanks so much A. It was so nice and what a happy surprise to be able to meet her and get my photo with her.

This day and night were magic in every way and it only seemed fitting somehow, that L. and I were virtually the last ones to leave. I mean this literally. We were almost the last two on the main street and certainly were on the side streets.

It almost felt like Sam and Dean driving silently through the night, after a job well done. Except, somehow I don't think, they'd have candles and teas and chocolates in the trunk along with L.'s awesome Big Bag of Joy, or would be crying their eyes out at leaving.

The two weeks were some of the very best I have ever lived and I could never, ever ask for better. I was and am grateful and thankful for the blessings that happened and I was a bit sad too to be leaving and everything swirled together and the tears started. I reached for my handkerchief and was crying and laughing all the way back to Sue's place.

I sure have to hand it to L., who is a wonderful person and a true friend, who really understood where I was coming from.


xoxoxoxoxoxo

The taxi driver who took me to YVR the following day is a fan of the show and it made the drive really nice.

I had to switch planes in Calgary and after disembarking, I was standing (how lucky) next to Starbucks.

Well, I was reading their sandwich board and what a neat surprise.

Calgary had won a competition and they got to sell the Starbuck's Pumpkin Spiced Latte one week earlier than the rest of Canada.

I was so in the lineup.

I look forward to these every year and it was excellent. :)

The flight home went well and friends were waiting for me at the airport and I was bubbling over with excitement. There was so much to share.

This wonderful time contained all the magic and joy and surprises and blessings that will last a lifetime.


Thank you for reading.

Hugs,

Sandra
xoxoxo

(P.S. My write-up on the Toronto Con will be coming shortly).

Cross-posted on BFZ.