The Toronto Supernatural Convention, which took place on the Canadian Thanksgiving weekend was so lovely, the whole adventure felt like being surrounded by sparkles of pure joy.
I've loved every Convention which I've been fortunate enough to attend for different reasons.
During August and September of this year, I was out in BC and had the time of my life.
I have so much to share about this time and VanCon and watching live filming and many other moments. It will be coming soon.
Then, Toronto happened and it was treasured in every way.
Spending time with friends and family was a pure elixir and was cherished.
We stayed at the Inter Continental Hotel and it was so lovely. It was amazing with the very real added bonus of being attached to the MTCC, where the Con was being held.
The pool, it's a salt water one, with a beautiful waterfall was perfect, as was the awesome hot tub. And, as luck would have it, I had it to myself the whole time I was there and it was heaven.
The Aveda peppermint and rosemary hair and body products, that the facility uses were so relaxing.
The sun was filtering in and reflecting off the water and the background music blended in perfectly.
Regarding the steam room, don't get me wrong, because it was great, but man alive, was it ever hot - like the hottest one I've ever been in.
The meals at Azure, from the presentation, to the service, to the actual food were marvellous.
The cranberry cheesecake was a particular favourite.
There was a super big screen tv, which came in handy regarding being able to watch the Blue Jays. Speaking of which, on two of the days, there were thousands and thousands of fans heading towards the Rogers Centre. A sea of blue. :)
Friday was the actual start of the Con and Richard Speight, Jr. was great, as always, as the MC and certainly King of the one liners.
I love Louden Swain and as the Con House Band, it is always such a pleasure to see them perform.
Alaina Huffman's panel was good.
Osric Chau absolutely always puts so much thought into his on-stage presentations. He has interesting stories to share and it makes for a really enjoyable time. His cosplay is always fantastic.
Gil McKinney was wonderful. He's really relaxed up on stage and has such a beautiful singing voice.
Erica Carroll was interesting and responded well to the questions. I loved her thoughts on always having options in any given situation.
"The Big Dick 'n Matt-owski Cult Classic Karaoke" party was lots of fun. It's very nice that it's free of charge, so everyone can take part and have a grand time. As always, it was so enjoyable.
Saturday was busier for the Convention.
Kathryn Newton was really good on stage. She was genuine and sincere during her Q and A.
I was able to stay to see Osric in his costume, which was fun, but missed the triple Osric, Alaina and Gil panel. I understand that it was great though.
Rob Benedict, Matt Cohen and Richard are excellent together. Everything flows so smoothly (or not) and they just roll with it and the laughter from the audience and up on stage I might add, is splendid.
Mark Sheppard was hysterical running around the room with this young girl's phone and then back up on stage trying to catch his breath. He asked the young girl how old she was (15) and he said he was 51. It was cute.
You can tell the genuine enjoyment he gets from the music segments of the convention(s) and he sure plays the drums well.
Marvellous Misha was groovy. When he was challenged to do the splits, it was a fun few moments. I have this awesome picture of the moment, which I will have to post, once I figure out how to upload my photos, from my camera, on a different computer than my own.
Saturday Evening in the Theatre was terrific. It's been two years since Rob had his stroke and his recovery is blessed for sure.
One of the highlights for me during this time was Osric and Gil singing See You Again. Wow!!! So well done, so emotional, exceptional.
Sunday was exquisite.
Jensen and Jared were so very wonderful, it was such a magical time.
Going Gold gives you an extra panel with them on Sunday morning and it was lots of fun.
Later in the day, at the main one, Jared was wheeled in inside a shipping container and gave everyone near the front a high five, which was great.
Clif was in really good form. Thank you for your words of advice.
The photo-op sessions were a fairy tale. There was enough time to talk and to share and to simply be and enjoy the energy of precious moments.
It did my heart really good to hear directly from Jared himself, that he is feeling much better.
Chris captured some very treasured moments with my photo-ops. Here they are below. They will always be extra special to me, with lots of meaning in them.
(Well, it appears that LJ is not displaying my photos correctly, so, here's the link to my Twitter, so you can see them: @elixirsmiling).
I do up my own thing for my autograph sessions and this time around, nothing I did worked out the way it should have. Except, that maybe it worked out exactly the way it was supposed to.
I ended up handwriting it all, my thoughts straight from the heart. Jared loved my writing "You're one kick ass writer." Jensen asked me a question. Loved the answer. Happy shared moments for sure.
Tahmoh Penikett was delightful. I always enjoy him and his stories. I'm going to try his style of meditative techniques.
It's been an incredibly rough year. It really has. And these very special times are a balm for the soul.

I am eternally grateful for the love and friendship in my Supernatural world. Thank you for your love and support. I feel very blessed.
Thank you.
Love,
Sandra
xo
Current Location:

Wow

Current Mood:

thankful

Current Music:

Shut up and Dance by Walk the Moon
Hello my friends,
Current Location:

Little room

Current Mood:

sad

Current Music:

none
Hello friends,

In celebration of the first serious snowfall in my region, I wanted to share a fun photo taken at Creation's Supernatural VanCon in August 2014.
It was a dream trip in every single way and I'll have lots more to share about it in the next while.
I adore my mittens. They're the best mittens in the world. They are made from reclaimed wool and upcycled into one of a kind mittens. I received them last year as a Christmas gift after dropping many, many hints.
They are made by Ewe La La http://www.ewelala.com
.
I took them with me to Vancouver with the duo photo-op in mind.
It was so much fun. Jared and Jensen are the best. The photo below is the result.
There was time during the photo op to talk (due to a lighting re-set) and they asked who made them and about them. Both Jared and Jensen really liked them. *glee*
It was such a warm few moments, filled with joy. When you first slide your hands into them, the felt/fleece is so soft. Jensen got his on and Jared looks at both of us and says as he's trying to get his on, "I don't know if I can get my hand into it." It was priceless, as was Jensen's reaction.
So much love, all tied up in multi-coloured ribbons of sweetness realized.
I hope all my friends are keeping well. Stay amazing.
Love,
Sandra
xo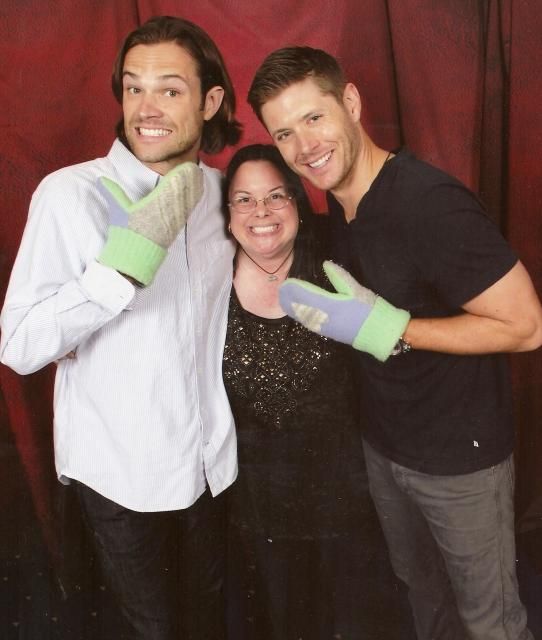 Current Location:

:) :) :)

Current Mood:

grateful

Current Music:

Love Lift Me by Amanda Marshall
Two sets of two gorgeous double rainbows happened today after a rain shower and tonight there is a beautiful full moon beaming down.
I wonder what it all means? Wait a minute – OMG – Supernatural returns for Season 10 tonight.
Glee, happy dancing, overwhelming joy.
Current Location:

Moon gazing

Current Mood:

happy

Current Music:

Ramble On by Led Zepplin
Hello friends *waves*
I hope everyone is keeping well and enjoying the days.
I had to go downtown today for a Dentist's appointment.
Traffic all over the place was terrible, resulting in delays and workarounds, which I firmly believe worked in my favour for what happened to me on this glorious day.
I stopped in at Starbucks first and they were giving out free samples. Yeah! Two items I had wanted to try were being offered as part of the samplings. :)
Later, I went to the Market and was able to get the tri-gelato I wanted to blend (cinnamon, pistachio and whiskey cream). :)
Then, the California figs I wait for every year to be shipped in made an early appearance today. :)
I packed all my goodies in my bag from Texas and headed for home.
Timing and direction can be everything.
I could have gone one way, but went the other, which resulted in me getting to say hello to one of my favourite actors – Al Pacino. OMG, my heart knocked so hard against my chest when I realized what was happening and it all went by in a blur, but man alive, what a blur. It was awesome…awesome and well, awesome! And the voice *glee*D D D
Lots of hugs,
Sandra
xo
Current Location:

Little Room

Current Mood:

happy

Current Music:

Best Day of My Life, American Authors
Hello dear friends,

I hope everyone is keeping well. *hugs*

I'm posting tonight to please ask a favour.

My Dad is gravely ill and in just a few short hours, has to have life saving surgery, that he is not well enough for and may not survive, but is his only hope.

If Dad survives the surgery, and with God's grace, I may be able to bring him home at the end of December, to enjoy his time at home, for the length of time he has left.

Could you please keep my Dad in your prayers and good thoughts. It would be so much appreciated.

Thank you.

Love,

Sandra
xo
Current Location:

Little Room

Current Mood:

ecstatic

Current Music:

Brighter Than the Sun by Colbie Caillat
For dear Linda,
Happy Birthday to a very special friend. I hope your day is filled with love and happiness and treasured times.
Thank you for being such a great person. *hugs*
I was thinking, that when we're in Vancouver *squee*, that we could try out a little place I heard about, my treat, for your birthday. I have it on very good authority *wink* that it's a pretty nice place.
And, perhaps some shopping at LUSH? Mais qui.
Love you,
Sandra
xoxoxo
Current Location:

Little Room

Current Mood:

cheerful

Current Music:

Werewolves of London by Warren Zevon
Current Location:

Little Room

Current Mood:

ecstatic

Current Music:

Firework by Katy Perry
Well, I wrote an e-mail yesterday to the main sponsor of the People's Choice Awards, Procter and Gamble, expressing my concern that Supernatural, despite winning two awards, was not invited to the Awards Ceremony.
To their credit, they did respond, as follows, and I quote:
"From: ""P&G North America" <pg_naconsumerrelations@mailnj.custhelp.com> (pg_naconsumerrelations@mailnj.custhelp.com)
Date: Friday, January 13, 2012 9:34 AM
Thanks for writing, Sandra.

We're sorry you're upset the cast of Supernatural wasn't featured on The People's Choice Awards. The show is comprised of 43 categories and we made every effort to showcase a variety of categories on the network broadcast. Unfortunately, only 14-15 of those categories can fit into a two hour television show.

Peoples choice award nominees who express interest in attending are always welcome at the show.

Stop back anytime.

Karen
PCA Team"
So, regarding the second last sentence, does anyone have any thoughts?
Take care.
Sandra