This was one of the best ever!
When I'm leaving or coming home from a Supernatural Convention, I usually try to plan it for a special day and this February, it was on Leap Day.
I left Canada during a massive snow storm and arrived in the beautiful LA sunshine hours later.
My connecting flight was via Toronto. I had to be at my hometown airport very early, so I was picked up at 5:30 am.
I received some gorgeous going away gifts from a dear friend during the ride out, which sure helped to make the trip extra special.
The flight left on time and I cleared customs and security in Toronto and checked the departure board and everything was on track and time – until it wasn't.
Oh man, when everything went delayed across the board and I was watching the snow and freezing rain outside, I was thinking this didn't look good.
At one point, I'm sitting beside a lovely older couple, who, after our conversation, had them convinced to check out Supernatural.
Just about then, two young pilots walked by and the lady commented that the pilots looked too young to be flying and I said "I'm willing to take the chance" and a few minutes later, we're in the lineup to board. Yahoo!
Upon disembarking at LAX, I headed directly for Pacific Gold and they had in my garlic pistachios, cinnamon almonds and Next organic covered coconut. Yeah!
I called Linda (seesmooshrun), collected my luggage and headed out to get the Super Shuttle to Burbank.
Super Shuttle is a really good company. I recommend it.
The traffic from LAX to Burbank was unreal. We went from daytime to night time, just waiting to drive.
I don't know how people do it on a daily basis.
Eventually, I made it to the hotel, and to the room and to see Linda, which was awesome.
I hadn't been to the California Pizza Kitchen since the last time I'd been in Texas and I was really looking forward to going to one in California.
I had exactly what I was hoping for, the gorgonzola and basil thin crust pizza and a glass of Beringer's Zinfandel (the 6 oz. glass) *dies laughing* and they were both excellent, as was the company and the conversation.
And, the Manager, was really nice and really into hockey, which was lots of fun for this Canadian girl.
xoxoxoxoxoxo
Thursday was a day filled with so much joy and fun and frights and excitement.
The morning found us over at Starbucks, sitting outside, deciding on what to do.
Linda came up with Universal Studios and what a fantastic choice.
We took a taxi there and the driver brought us up to the side entrance, where there is Frankenstein parking.
Awww Frankenstein – who was to know what would happen later in the day with this beloved monster. :)
Once we got our tickets and entered the park, we were deciding what to do, when, we saw The House of Horrors.
Okaaaaay….
I honestly thought it was going to be memorabilia from horror movies.
I really should have thought more about the guy at the entrance and the way he smiled as we were walking in and then I turned back and his eyebrows went up and his smile dropped. Uh-oh!
So, we enter and there are pictures of monsters on the wall and such and I'm thinking this is cool.
AND THEN, we're walking through and all of a sudden a monster jumps out of the wall at us.
OMG! My heart starts thundering. Calm and Sandra are words that don't go together in these types of situations.
I let a scream out of me and things just kept going from there.
One of the monsters breathed in Linda's ear – I don't know how she held it together.
The further we go in, things are getting darker and more are popping out at us.
I was pretty much a goner by this point.
Linda took the lead and I'm right behind her, clutching her t-shirt and screaming in her ear.
God bless Linda for soldiering on, with me like a human cling-on, right behind her.
When we ended up on the top deck, I thought for sure the monsters were going to drop from the ceiling.
Going through the body parts bump room was really gross – eeeeew!!! AND, just when I thought things might be okay, we entered the Lab.
Things got super scary then and I got tag teamed by two of the monsters. OMG!
I'm trying to see where one might jump out, and didn't see the one behind me, who then started to shimmy a machete at my feet.
I screamed and started to run, except there's no place to run and that's what I'm yelling, when just around the circle, one of his buddies pops out for the grab.
Well, by then, I'm collapsing and we're gone, but we still had one more little surprise…Chucky popped out at the very end.
When we were finally out, there was a bench just outside the exit and I fell onto it, with Linda beside me.
My heart was just pounding and I was talking a mile a minute and I know Linda had a real cardio workout too, when one of the attraction reps, a lovely man, named Frank, came over to us.
He wanted to make sure we were both okay, in addition to thanking us for providing so much entertainment.
I can only imagine what the security video must look like. *grins*
Linda would have made Sam and Dean proud. I, on the other hand, perhaps not so much.
This will always be a very treasured memory from a most wonderful time.
The park was not crowded at all and we were very lucky to be able to have small waits.
To get down to Jurassic Park and The Mummy rides, you have to take six very long escalators or the stairs and full kudos to Linda for walking up one of those very long flights of stairs on the way back.
Just as we reached near the bottom of the last escalator, I jumped off the last four steps, because I saw Scooby Doo and the Mystery Machine and I didn't want to miss my chance. It was great.
We started off with the Jurassic Park ride and everything was great until I saw a raptor and then these gates opened up and in we went and the people in the front put up their arms and I said to Linda "I wonder why they're doing that?" Oh wow, we then went up and plunged down this massive water slide and I got soaked from head to foot – it was like a mini tidal wave and it was really funny.
You can't take anything with you on The Mummy ride – nothing and you have to use these lockers to store everything, but you can only lock and unlock them with a fingerprint impression. It was interesting.
Well, the ride itself has all these cautionary signs leading in and then once you're actually seated on the ride, the ride custodians also re-enforce the rules and a few moments later, I totally understood why – it's an incredibly intense ride.
It's like a rollercoaster in the dark, with special effects from The Mummy movie.
At one point, it suddenly stops and you're suspended in total darkness in the air. It felt like we were just hanging there. It was terrifying and very intense. :)
The rest of the time was spent in much merriment and we lucked out by getting to meet so many of the Universal characters, including Frankenstein – what a sweetheart.
He was pretend boxing with this guy and I waited my turn.
He was great, really sweet and now I can say I got kissed by Frankenstein.




Donkey from Shrek was there too. When I walked up to his Cabana, Donkey asked me my name and then I introduced Linda.
Then, he asked me what I was down for. AND, I don't think I breathed the whole time I was telling him about Supernatural and Jared and Jensen and the awesomeness of it all.
Well, he was really cute, because just after I finished, he said to Linda "Get her off the caffeine." It was too funny. Imagine, Donkey, of all *people* saying this. *giggles*

Check out his eyes watching me. Too funny.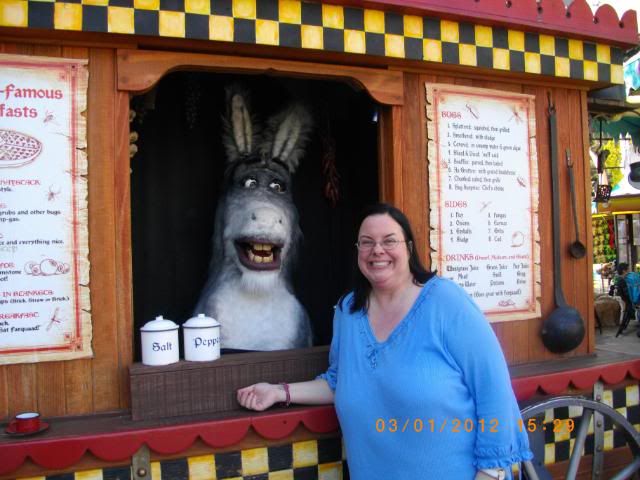 We had a late lunch/early supper at the Stagecoach restaurant that was delicious and they have these three foot cotton candy desserts. It was fun watching them get delivered to the tables.
The park closed at 5:00, which seemed really early, but, what can you do.
We did some shopping at one of the stores before exiting the park and heading to City Walk, which was so much fun, with all the stores and they had a LUSH store *glee*.
Hand massages, a bit more shopping in a very cool sock store, The Los Angeles Sock Market and then we headed back to the hotel, dropped off our stuff and then headed over to registration.
It was just so wonderful to see everyone. This really is one of the best parts of a Con. *smiles*
xoxoxoxoxoxo
The LA Marriott Burbank Airport Hotel was really lovely.
Some the buildings had this beautiful stone work on them and there were fabulous, lush green pillowed benches to sit on outside and at night they had encased tall flames going and there was ice fruited water in lemon and lime and orange. It was great.
There were two pools and I used the outside one, surrounded by tall palm trees and loungers and tables and chairs. There was even an area, where you could pull down the curtains for privacy and still have the sun coming through the top of the enclosure.
xoxoxoxoxoxo
Friday was the official start of the Con.
The night before, there was word that Kim Rhodes would probably not be able to attend, due to a family illness. However, she made it, along with Gabriel Tigerman, who was to be her fill-in just in-case.
It was a fun way to begin the Con. There was lots of high energy and the back and forth between the both of them was fun.
Chad Lindberg was up next and he's always a delight. Such a swell guy.
Later in the afternoon was Rob Benedict and he was awesome. Rob, has to be one of the nicest guys around. He has this really quirky and fun sense of humour.
The autographs went really well and I asked Rob if he was going to sing Pop Tart Heart, later in the evening and he said for sure. It's a really good song.
During the break, R., Linda and I headed over to Target and I was able to get the Dunkin Donuts coffee I wanted and the Oreos 100th Anniversary cookies, which are really nice.
They've stamped them with a birthday candle, a 100 years stamp and the inside of the filling is confetti coloured.
Then, we went through the drive-thru at Krispy Kreme and the donuts were hot off the assembly line.
The three came in a box and we each got one and they were so good. What a treat!
Louden Swain was excellent. They are a great musical group that really put their hearts into their concerts.
People were invited up to the front to dance and sing along and many of them were dressed for the Karaoke Show later that night. The colours, the lights and the music all swirled together in a fun way to make for a really nice time.
After, it was time for Karaoke. I always really enjoy the Karaoke Show, it's a really good time. Richard Speight, Jr. and Matt Cohen were good co-hosts at giving fans a groovy time during the show.
Lots of fun was to be had.
xoxoxoxoxoxo
After taking a swim on Saturday morning, in the brilliant sunshine, I returned to the room, got the ice bucket and headed down to the machine.
There was no change room for the outside pool (weird, eh?), so I had slipped my clothes over my bathing suit after towelling off. My hair was affixed flat down and dripping from my scalp and of course, isn't that always when something happens?
I had gotten the ice and was walking back to the room, when these two people were walking down the hall. I got a lovely smile from the lady and a tip of the hat and a "Good morn'in" from a handsome older gentleman, with lots of charm.
Well, I was to see that same gentleman on stage with Guy Norman Bee a few hours later. I didn't recognize Sam Hennings, but this was the same person who greeted me in the hallway. *grins*
During Creation Supernatural Conventions, they always play music videos related to the show during intervals. I love them. The vidders always produce such interesting work and they're a really nice part of the overall convention experience.
Guy Norman Bee and Sam Hennings, were the first guests on Saturday. It was an incredibly good panel and certainly Guy made it clear how much he enjoys working on Supernatural and Sam really enjoyed his time on set as Samuel Colt.
Next up were Sebastian Roche and Mark Sheppard. Mark was more laid back and Sebastian was very high energy. They had an extremely good back and forth between each other and re-naming themselves. I was laughing so hard, that I can only remember that Sebastian is now referred to as "C**k Roche".
During the lunch break, Linda and I headed over to a great restaurant/take-out called George's. There were many other convention attendees over there as well.
The Greek food is very good and reasonably priced and there was the bonus of sitting in the beautiful California sunshine, soaking up some natural Vitamin D, close to the Bob Hope Airport.
There was an on-stage foursome waiting for us when we got back, Rob Benedict, Richard Speight, Jr., Matt Cohen and Rick Worthy.
At one point during the panel, one of the fans was at the mike and said to Rick about not calling/or remembering her name from Karaoke and he invited her up on stage.
Well, holy Hannah, I don't think any of us present, will ever forget what happened next.
I'm sitting in the front row, chewing my gum, thinking to myself as Rick moved in closer to her, that he's going to kiss her, but then thought no. Well, he did, full on, mouth to mouth and I'm watching this and I see Rob moving closer to the edge of the stage to see if Rick is in fact kissing her, or just pretending and it was the look on his face and then Richard and Matt are somewhere in the room and you here them and the audience is like wow and then Rick pretends to bite her on the neck and I swallowed my gum and it was just all very surreal but yet really fantastic as well.
Then, after all that excitement, one of the fans was invited up on stage and her and Rick re-created their really cool dance moves that they did the night before at Karaoke.
He's a really neat guy.
Misha Collins was up next for his panel. I really enjoy Misha and I'm sure glad to see Cas back on Supernatural.
Jim Beaver is always great and always provides a wonderful panel. This time was no different, but there was a tinge of sadness to it for many of the fans and I think maybe a bit for Jim too, about his passing on the show.
For the autographs, on one side of the room, it went: Mark, Matt, Richard and then Misha and on the other side of the room, it went: Sebastian and then Rick and then in the hallway was Guy. Jim's autograph was not part of any package and you had to pay for it separately.
When it came to my time, I got through Mark's okay and then there was some confusion about the Karaoke tops and Matt and Richard didn't know if they were to go on stage or not. So, I got my autograph from Matt and then while I was waiting for Richard, as they did in fact have to go on stage, I had extra time talking with Misha, which was fun. And after that, Rick and Sebastian, who were both great.
Supper at Denny's later with friends was lots of fun and it was super to get some face-to-face time together and hang out.
The Cocktail Party on Saturday included Misha, Mark, Matt, Richard, Sebastian, Rick and Jim, who all made it to our table.
I asked Seb about working on Criminal Minds. He really enjoyed it and the fact that Matthew Gray Gubler was the director of the episodes he was in.
When Jim came around I said how sorry I was that his character had died and I asked him if he knew ahead of time if it was going to happen and thankfully he did, by a few months.
xoxoxoxoxoxo
Sunday, the BIG day, had arrived.
Breakfast was set for 7:45 am (early – after the Cocktail Party) *winks*
It was very nice and the Continental breakfast was good and the Starbucks very welcome.
I used the ladies room later and Jensen was in the hallway, heading in. It was so nice to see him. *mucho glee*
Jared's town car was late picking him up, so he was late getting to the breakfast and Jensen did a great job till he got there.
You could sense the relief from Jensen when his wingman showed up.
Their back and forth bantering and shared storytelling is always so much fun.
xoxoxoxoxoxo
Photo-ops are always a highlight of any Convention and the energy is at a very high level when the time comes.
The line-ups took us from one part of the hotel to the other and then outside in the beautiful sunshine.
The ops with Jared and Jensen were fantastically fun and heartwarming.
Jensen was up first and my dear friend JoAnne asked me to share one of her photo-ops with her and Jensen and it was so much fun. *hugs*
And then, when it was time for my solo one, Jensen opened up his arms and said "C'mere San…dra…" OMG, what a sweetheart!!!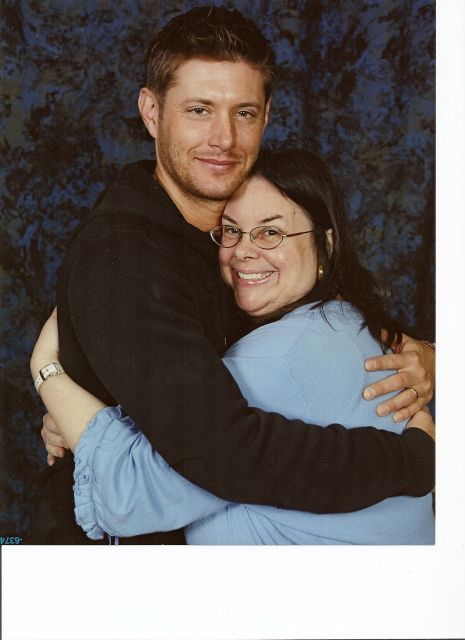 Jared was equally adorable and it was lots of fun talking with him about becoming a Daddy.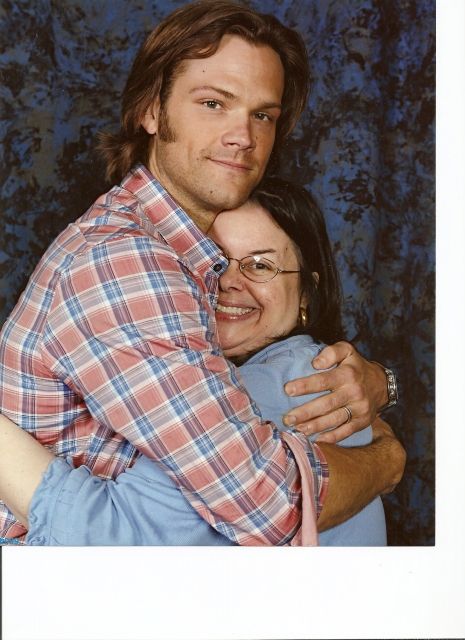 The sandwich op was just perfect and so much fun. A very, very happy bubble in time. *glee*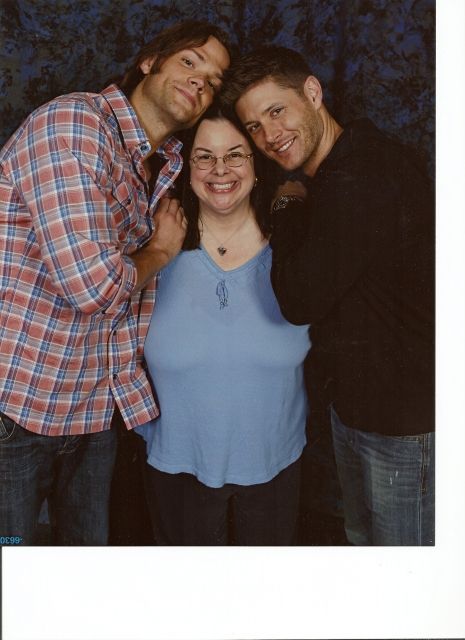 They will always hold very treasured memories. Thank you dear Chris. *hugs*
Creation Entertainment sure puts on a wonderful and super fun time.
xoxoxoxoxoxo
Jim Beaver and Richard Speight, Jr. shared the stage early on Sunday afternoon, before Jared and Jensen were to come on and it was a fun back and forth with audience participation.
During this interval, I was very fortunate to receive a copy of the book Fandom at the Crossroads: Celebration, Shame, and Fan/Producer Relationships by Lynn Zubernis and Katherine Larsen.
It's an exceptional read, full of insights and revelations from the fans, cast, creator, crew and many others. Here is the website: http://fangasmthebook.wordpress.com/2012/02/20/fandom-at-the-crossroads-now-for-sale/ and http://www.amazon.com/Fandom-At-Crossroads-Celebration-Relationships/dp/1443835307/ref=sr_1_1?ie=UTF8&qid=1329749877&sr=8-1.
xoxoxoxoxoxo
Jared and Jensen are so much fun on stage. They've got such a great interaction between each other and the fans.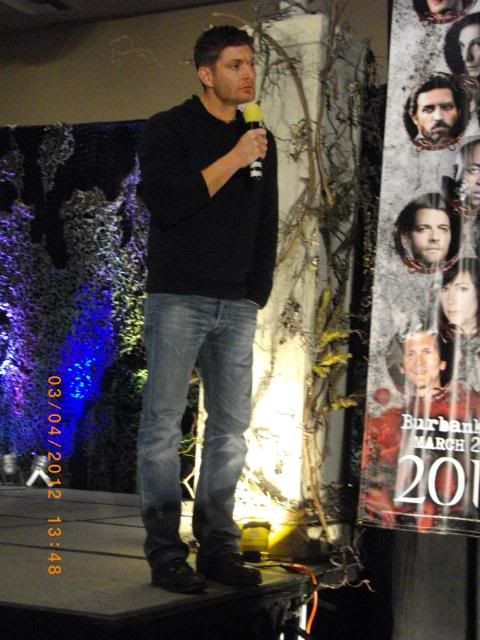 It was great being able to sing Happy Birthday to Jensen, as Richard walked the cake up to the stage.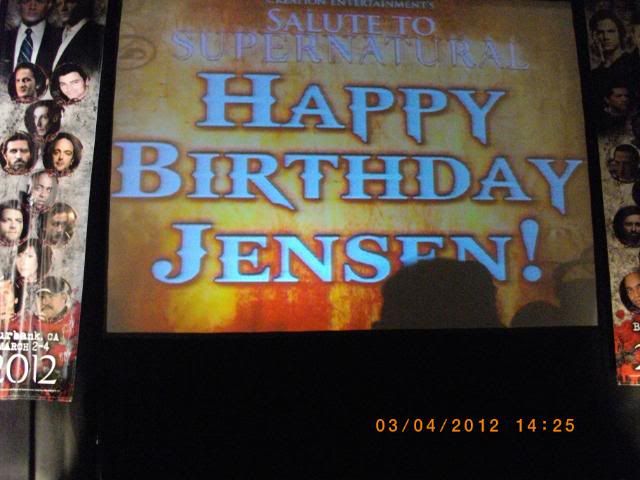 The autographs with the guys are always wonderful and they sure were this time.
Both asked about my autograph picture. It's part of a theme I'm doing and it was taken on a snowy cedar hedge, with the hearts and x's and o's *grins* as a little extra addition to nature.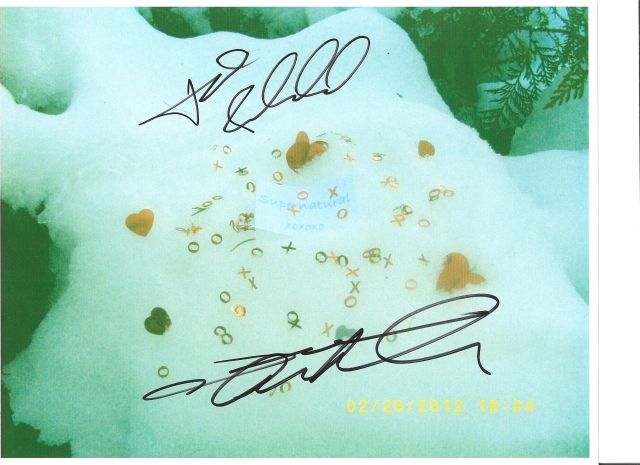 Madison McLaughlin was the last official guest of the Con. She was really good and clearly enjoyed her time working on Supernatural. I hope we get to see her character again.
This is the last time the Con will be in the LA area, next year it'll be in Las Vegas.
After the re-ups were done and more goodbyes were said, Linda, R., C. and I were going for supper at the hotel restaurant, just as it was announced that the photo-ops with the guys were ready. That was sure lots of fun and so was dinner later on.
xoxoxoxoxoxo
Monday morning came way too early and so did the goodbyes. :(
I was sitting outside, waiting for the shuttle, having a lemon iced water, in the sunshine, thinking about what a marvellous time it had been, so full of joy and happiness and love.
I reached home at about midnight, to friends picking me up and sharing the excitement of such a wonderful time.
There was one more surprise waiting for me when I got home.
When I'm away, I usually mail myself a letter or postcard with little notations and feelings of times away.

When I was in Vancouver in August/September 2010, I had mailed myself a Witching Season letter. This was during the time that I had taken so ill during the Con and it contained some affirmations and blessings.
Well, guess what shows a mailing date of February 24, 2012 from Vancouver, my letter of almost two years ago.
What I wrote then, is what I needed to be reminded of now.
From solar flares to a full moon, to mail delivered when it needed to be heard, this special time had it all.
There were so many blessings.
Thank you for reading.


Love,
Sandra
xoxoxo
(Cross-posted on BFZ).